AMBA and affiliated clubs are successful due to the dedication of many fantastic volunteers who contribute their time and skills to assist multiple birth families at local, state and national levels. AMBA celebrates the contribution our volunteers make and we recognise their ongoing volunteer efforts and commitment to their communities via the AMBA Appreciation Awards.
About the AMBA Appreciation Awards

The AMBA Appreciation Awards program has been established to acknowledge AMBA members' valued contributions; introduce dedicated, creative and innovative individuals and clubs to their peers on a national level; promote teamwork; recognise activities that increase the profile of AMBA within local and national communities and promote national affiliation.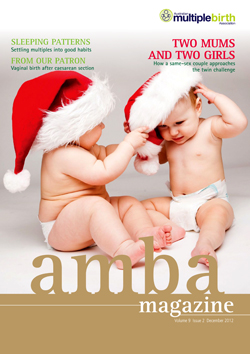 AMBA Magazine 
The AMBA Magazine is a highly respected, glossy publication and a much-loved read by parents of multiples across Australia. Its focus is on providing real-life insights into life with multiples, as well as highlighting a selection of the medical and lifestyle challenges that are a reality for multiple families. Distributed to AMBA members, AMBA Magazine carries a balanced mix of medical and lifestyle topics. A staple for parents of multiples, it keeps readers informed and up to date on the latest products, services and tips for raising multiples. Plus, it includes up-to-date medical and wellbeing information.
The Christmas 2012 issue of the AMBA Magazine is out, and it is full of really great stories! A broad range of topics are covered, from sleep-settling techniques to separation (or not) at school to teenage multiples - does it get any easier? - to the gift of giving. Our patron has a very interesting article on vaginal birth after caesarean section and our cover story is that of an AMBA same-sex couple and their gorgeous daughters. And of course convention 2012 is featured as well.  Sit down with your copy, have a cuppa, and enjoy.
To purchase a copy, email This e-mail address is being protected from spambots. You need JavaScript enabled to view it